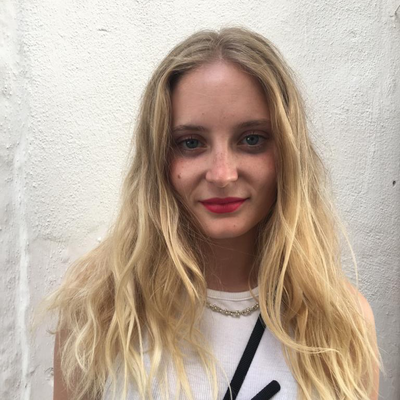 Über Matilda Gomez de Zamora:
Hi, my name is Matilda. I recently graduated, with a bachelor in Fashion Marketing & Promotion. I'm a young creative with a passion for branding and marketing.
My three native languages are English, Spanish and Italian.
Erleben Sie
SHOWROOM ASSISTANT AT 7 FOR ALL MANKIND, MILAN June 2018 - July 2018
I helped with the reception of samples, checking packing lists were correct and highlighting any differences, setting up the showroom following the visual merchandising guidelines and generally assisting during buying appointments (putting styles back on racks, searching for missing codes and prices, preparing coffees and arranging snacks, etc).

BARISTA/BARTENDER AT DREAMSEA SURF CAMP, ALICANTE June 2020
I worked as a barista/bartender in a very fast paced environment, where I had to learn how to manage time and skills. Maintaining brand image was also key.

TEAMER AT DREAMSEA SURF CAMP, CANTABRIA June 2020 - August 2020
May 2021 September 2021
I worked very closely with the kitchen staff of the camp, helping prepare, serve and restock the buffet food and clean after myself or others at a fast pace. The job was very guest focused, so it was important for me to also socialize with them after my shifts following company guidelines, to maintain the surf camp image and give them a memorable summer.

SALES ASSISTANT AT LOVE STORIES INTIMATES, LONDON (December 2021 - May 2022)
My job was based around driving sales through customer engagement. I was often alone working in the shop, which required me to be problem solving oriented and a quick thinker, all the while attending to customers one by one.
Daily tasks included opening and closing the shop, keeping the shop clean and appealing in order to offer a luxe experience to the customer, remembering loyal clients' names, personal taste and sizes, and reporting to the shop manager. I also helped with the visual merchandising by following HQ's standards and my own based on the brands image.
Bildung
UNIVERSITY OF WESTMINSTER, HARROW- BA, September 2019 - June 2022
Bachelor - Fashion Marketing and Promotion
Fachkräfte aus demselben Marketing / Werbung / Öffentlichkeitsarbeit-Sektor wie Matilda Gomez de Zamora
Fachleute aus verschiedenen Bereichen in der Nähe von Lugano, Lugano
Jobs in der Nähe von Lugano, Lugano
---

Jobcloud

Mezzovico, Schweiz

Attività: · Progettazione tecnica / dimensionamento di sistemi di riscaldamento, ventilazione e raffreddamento · Consulenza telefonica ai nostri clienti specializzati su tutte le questioni tecniche re ...

---

La Palma au Lac Hotel & Spa

Ascona TI, Schweiz

Il datore di lavoro seleziona per la prossima stagione 2024 di una · Segretaria di direzione con focus marketing (attività segnalata) · Mansioni: · Si occuperà principalmente di aggiornare il sito i ...

---

Gi Group Human Resources SA

Villa Luganese, Lugano, TI, Schweiz

Gi Group Human Resources SA · Per importante azienda del luganese siamo alla ricerca di · OPERATRICI MICROMECCANICA · Requisiti: · esperienza maturata all'interno di uno dei seguenti settori: orol ...